Rihanna 'Shines' Above 'One More Night' on Hot 100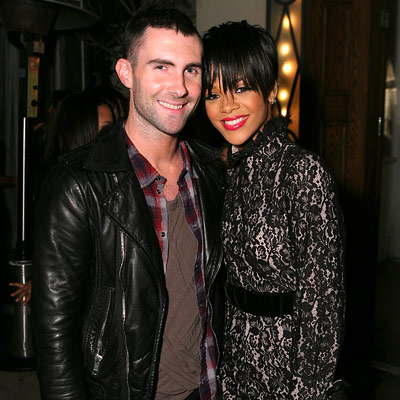 Rihanna's "Diamonds" Shines Bright on Hot 100
After nine consecutive weeks of Maroon 5's reign over the Billboard Hot 100 chart with their single "One More Night", the song falls off the top spot as Rihanna's new single "Diamonds" moves 2-1 on the Hot 100 making the single her 12th number-one.
Maroon 5's single "One More Night" spent 22 weeks on the Hot 100 after debuting at No. 86 on the chart. In September, the song moves up 2-1 on the tally throwing off Taylor Swift's first chart topper "We Are Never Ever Getting Back Together." "Never Ever" was trading spots on the summit with Flo Rida's "Whistle", which took the top spot the previous week. Maroon 5 also held off international Korean-pop artist PSY off the top spot for the majority of "Night"'s reign on the Hot 100. "Gangnam Style" failed to top the chart, even after eight weeks of being at No. 2.
Maroon 5's new single "Daylight" was just released for mainstream radio on November 8th, as it was performed on NBC's The Voice on the same evening. The song has yet to be in the top ten of the iTunes Store chart, but is in fact early on it's way of it's new release.
Adam Levine said in a radio interview in September in Las Angeles, CA that "Daylight" is his most favorable song on the band's new album,
Overexposed
, and that he thinks it would serve good on the radio. "I believe that if 'Payphone' took off, so with this song [Daylight]."
"One More Night" spends it's 22nd week at No. 2 after it's 9 week run atop the Billboard Hot 100. "Night" still spends at least another week at No. 1 on the Billboard Pop Songs and Radio Songs charts. It would be no shock if Rihanna's new single "Diamonds" would soon sneak up and top those positions as well.
You can download "Daylight" on iTunes Store right now:
https://itunes.apple.com/us/album/daylight/id536292140?i=536292492
ATTENTION:
I will not be able to update Maroon 5's chart ranking tomorrow as I do ever week on Thursdays due to Thanksgiving and the fact that I will be busy with family and such. So sometime tomorrow take time to go to this link >>
http://www.billboard.com/charts/hot-100#/artist/maroon-5/486079
<< to check up on the band's new chart success for next week.
Thanks,
River.