Maroon 5 Among Top Artists with Best 'Songs Names After Other Artists' List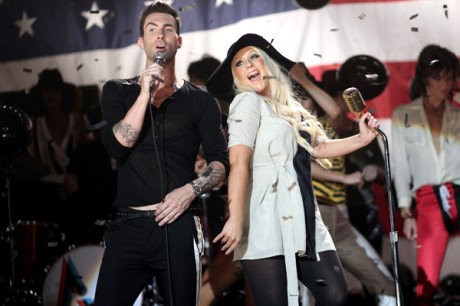 Maroon 5, The Wanted, Weezer & many more on the list of artists with the top songs named after other artists
Maroon 5 is among the top 20 artists and bands that have released singles named after other legendary artists with their 2011 No. 1 hit single
"Moves Like Jagger", featuring Christina Aguilera
, obviously named after rock alum Mick Jagger of the Rolling Stones, putting them on the top of the list (due to its major success in 2011).
The band's song "Moves Like Jagger" enjoyed and on-and-off 4 weeks atop the U.S. Billboard Hot 100 singles chart, as well as the Pop Songs, Radio Songs, Digital Songs, and the U.K. Singles charts in the summer and fall of 2011. Apon its release, it debuted at No. 8 in June 2011 and failed to chart any higher until the following October after surpassing Adele, Rihanna, and LMFAO on the charts to the number-one spot. "Jagger" is the No. 1 best selling song of all time with a name with another signer's persona in it.
Other successful songs with other artists name's in them that made the top 20 songs list include The Wanted's new track
"Walks Like Rihanna"
, a funky dance-pop tune about Rihanna's stage persona and ability to walk sensually. Let's not forget
Weezer's "Buddy Hollie"
,
Drake and James Fauntleroy's "Girls Love Beyonce"
, country singer
Taylor Swift's "Time McGraw"
,
Jason Adlean's "Johnny Cash"
,
Eric Church's "Sprinsteen"
and many more added on the list.
You can check out the full list of 20 songs names after other artists below:
http://www.billboard.com/articles/columns/pop-shop/1560087/20-songs-named-after-other-musicians-the-wanteds-walks-like
Maroon 5's "Moves Like Jagger" featuring Christina Aguilera: