Adam Levine Plays Wheels of Musical Impressions On Tonight Show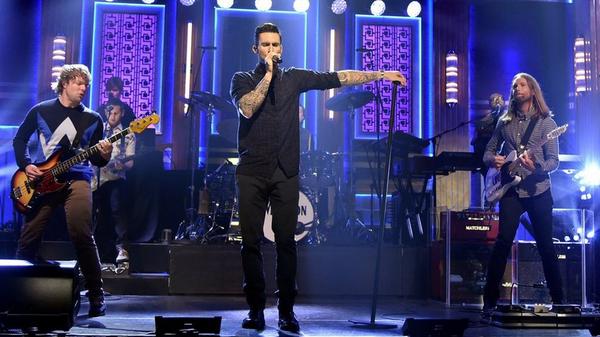 Maroon 5 performing on The Tonight Show in September 2014.
Adam Levine does impressions of MJ, Eddie Vedder, and even Frank Sinatra on Fallon Tonight

"Let's take that bass line for a walk," Maroon 5 frontman Adam Levine demands just before impersonating Frank Sinatra singing "Head, Shoulders, Knees & Toes."
Adam Levine made his debut appearance on The Tonight Show Starring Jimmy Fallon last night (Tues, Sept. 2) and it was easily by far his best appearance on any of Fallon's late night shows ever. Levine talked with Fallon about The Emmy Awards and how it was a tough pulling off present an award with fellow The Voice coach Gwen Stefani not being able to pronounce The Colbert Report. Adam and Jimmy then later played a new game called The Wheel of Musical Impressions. Adam began by singing "Head, Shoulders, Knees & Toes" in the tone of Frank Sinatra, Jimmy then did an impression of Bob Dylan singing "Rude" by MAGIC!, and Levine then followed with impersonating Michael Jackson by singing the Sesame Street theme song. Jimmy took the reigns of Iggy Azalea and sang "Old Mac Donald Had A Farm." Adam closed out the game with an insane Eddie Vedder impersonation singing "The Muffin Man."
Maroon 5 also performed "Maps" live on The Tonight Show as well. (Watch it here!)
Maroon 5 also announced tour dates for their 2015 World Tour which will begin in North American in February! Check 'em out: www.maroon5.com/v
Watch Adam Levine do impressions on The Tonight Show below: