James Valentine Hints At Philippines Concert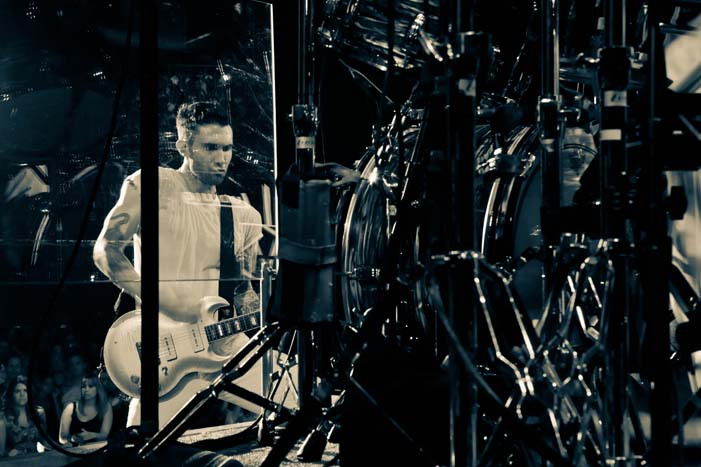 Maroon 5 performing in Jones Beach in 2011.
Maroon 5 will most likely return to the Philippines next year to perform

After a long European promotional tour throughout the month to promo their new album V, Maroon 5 happily returned to the States earlier this week, and now they are prepping for their ginormous worldwide tour starting in February. And guitarist James Valentine is already eager to head over to the Philippines to perform.
Earlier today (Wed, October 29), guitarist James Valentine took it to Twitter showing his passion for the Maroon 5 fans stationed in the Philippines. "Shout out to the fans in the Philippines," he began his tweet out with. "[@M5Philippines]... Can't wait to come back!" Is this James confirming that Maroon 5's long-awaited return to the Philippines is to come? No official tour dates for the Philippines, or any dates in the Southeast Asian region have been announced on behalf of Maroon 5 or Live Nation just yet, but Philippine fans may not have to wait long to see the Grammy-winning pop rock band return.
Shout out to the fans in the Philippines! @M5Philippines Can't wait to come back!
— James Valentine (@jamesbvalentine) October 30, 2014
Upon the release of Maroon 5's new album, V, on September 2, the band announced their forthcoming worldwide tour, The Maroon 5 World Tour, in partnership with Live Nation, which is set to take off in December in Las Vegas at the Mandalay Bay Events Center on the 30th and 31st. The tour will kick-off it's official North American leg on February 16, 2015 in Dallas, Texas at the American Airlines Center. Thus far, however, only dates in North America and Europe have been announced for the tour. Supporting acts were confirmed to be reggae-pop group MAGIC!, who are most famous for their No. 1 hit single "Rude" and their gold-certified debut album Don't Kill the Magic, and rising R&B-pop artist Rozzi Crane. Pop singer Nick Gardner will open for Maroon 5 on the European Tour in May through June of 2015.
Visit www.maroon5.com/maroonvtour to see full tour dates and ticket information on the 2015 MAROON 5 WORLD TOUR! Get Maroon 5's new album, V in stores and online everywhere: www.maroon5.com/v/
Watch Maroon 5's new music video for "Animals" below: