Maroon 5 Is Not Nominated At 2015 Grammy Awards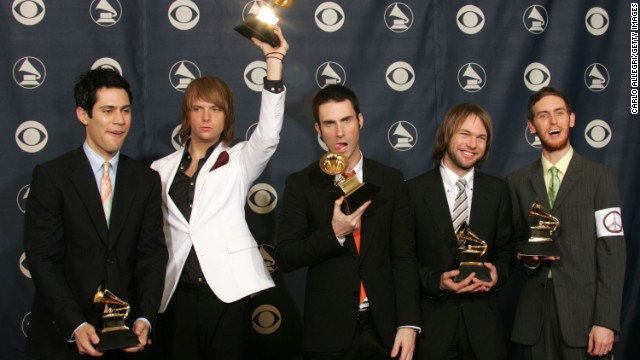 Maroon 5 at the 2005 Grammy Awards.
Maroon 5 ripped off of any Grammy nods for next year
The full list of nominations for the 57th Annual Grammy Awards were leaked earlier today (Fri, Dec. 5) and Maroon 5 is no where to be found.
The last time the Los Angeles pop rockers were nominated for a Grammy Award was 2 years ago when the band was up for Best Pop Vocal Album for Overexposed (loosing to Kelly Clarkson's Stronger), and Best Pop Duo/Group Performance for "Payphone", featuring Wiz Khalifa (loosing to "Somebody That I Used to Know" by Gotya and Kimbra) at the 55th annual Grammy's.
Maroon 5 has nominated for 11 Grammy Awards in total since the beginning of their career, first being nominated for Best New Artist in 2005, also winning the award. The next year, the band was nominated for Best Pop Duo/Group Performance (and also won) for "This Love." A few years later, in 2008, the band took home the Best Pop Performance by a Duo or Group With Vocals Grammy award for "Makes Me Wonder." Thus far, the band has won 3 Grammy Awards.
Maroon 5 performs on A Very Grammy Christmas Special on Fri, Dec. 5 on CBS at 9p ET/PT! Don't miss it.
Also, Maroon 5 is set to perform live at the 1st annual People Magazine Awards on Thurs, Dec. 18 at 9pm ET on NBC!
Do you think Maroon 5 should have been nominated for a Grammy Award this year? Share your thoughts on Twitter @M5NewsRoom!
Download Maroon 5's new album, V right now on iTunes Store:
www.maroon5.com/v/
Get tickets to see Maroon 5 on their 2015 World Tour next year with special guests MAGIC! and Rozzi Crane: www.maroon5.com/maroonvtour
Watch Maroon 5 perform "This Love" at the 2005 Grammy Awards below: